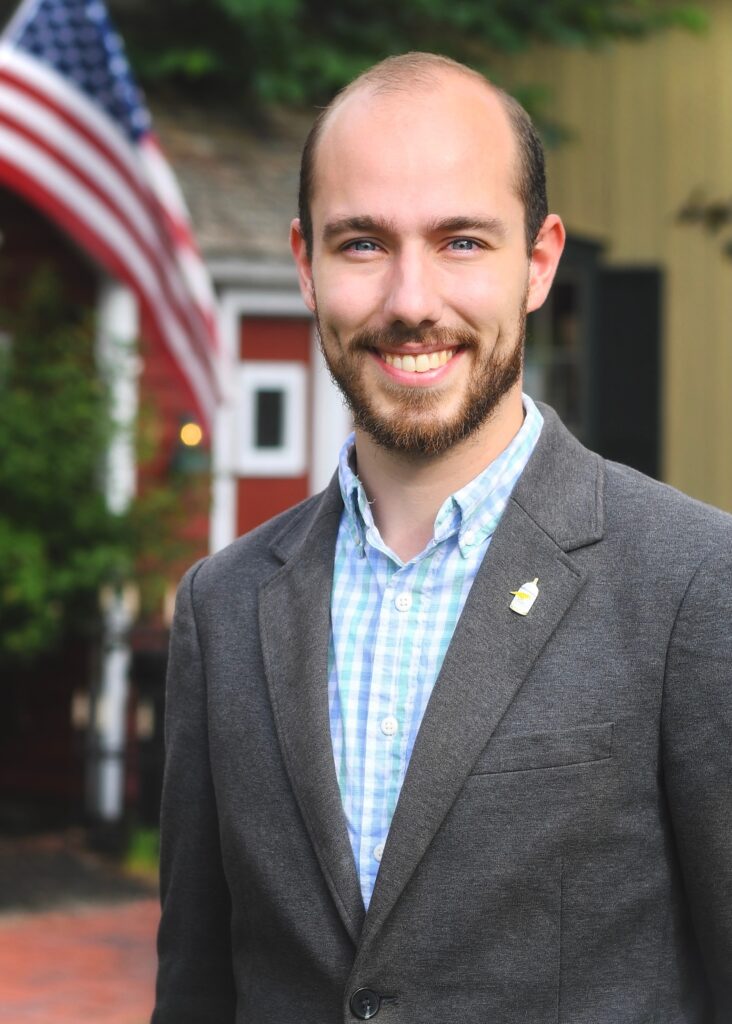 Growing up in Olmsted Township, Riley Alton is one of us.
His family taught him the value of personal responsibility and hard work, leading him to take a job at Shaker's IGA throughout high school and to do summer work at the Brook Park Ford plant and Travel Centers of America in Westlake. As the great-grandson of decorated WWII veterans; the grandson of machinists and carpenters; the son of an artist and a small business owner, Riley understands the value of hard work. He believes that all work has dignity, whether you punch a clock or earn a salary; whether you're raising a family or caring for an elderly loved one.
From a young age, Riley's Catholic faith called him to serve others and to be part of a cause greater than one's self. After completing much of his education in Olmsted Falls City Schools, he attended St. Ignatius High School and graduated with First Honors. He earned his undergraduate degrees Summa cum Laude in just three years from the Ohio State University, where he studied History and Political Science at the top of his class. 
Riley has devoted his life to public service, from currently serving as the aide to a local legislator to working as a policy fellow for Cuyahoga County. He is a graduate of the LEAD Ohio program, sponsored by U.S. Senator Sherrod Brown to improve the economic and social wellbeing of Ohioans by preparing the state's next generation of leaders. He is also currently an Ohio Education Policy Fellow at Cleveland State University, a nationally-recognized program that develops effective public policymakers who are passionate about educating our children. The program accepted him because of his commitment to ensuring the state pays its fair share into quality public education and his track record for helping to make good things happen, most notably with the passage of the bipartisan Fair School Funding Plan.
Riley is running for Trustee as a multi-generation Olmsted native who cares deeply about this town and wants to give back. His strong education and his experience in government are thanks to the opportunities afforded him by our community. He will fight everyday to keep Olmsted Township a great place to live, work, retire, raise a family and start a business.
Listening to you
Riley understands being accessible to all residents is a top priority. As Trustee, he'll work to respond quickly to your concerns as well as improve residential outreach, whether through e-mail or regular newsletters. And Riley will set regular times when residents can visit him each month in the office or out in the community.
Keeping Olmsted Township a great place to live
Riley will fight to ensure the township's growth doesn't come at the expense of our quality of life. From running the office of Rep. Bride Rose Sweeney, he has the experience to create smart-growth policies that make sense for us. He also understands Olmsted Township must tackle our existing infrastructure needs, such as road improvements and flooding mitigation. Riley will put his knowledge to work for us by aggressively pursuing grants and working with local leaders to fund critical projects.
Protecting our economy, neighborhoods, and quality of life

As a dedicated public servant, Riley has the energy and experience to cut through red tape for small businesses. On his first day in office, he'll have a jobs agenda to attract and keep employers here. Riley also will focus on ensuring our safety forces and first responders have the tools they need to keep our neighborhoods safe and provide the life-saving care upon which we depend. And he'll stand up for our seniors by working to secure grants for innovative programming.